Our winner is…Linda. Congratulations.
Happy Friday!
It has been unbearably hot this week here in NY. It was lovely to finally be able to sit outside in the gazebo with my book but not to go inside since we don't have the air conditioners in the windows. I am late today because after my home maintenance class, I was just too hot to go in the house and work on my computer.
After my electrical class, I did replace two plugs (receptacles) which have been bothering me for years. See embarrassing picture below. I am going to pick up a few of the wall plugs which include USB ports to make it easier for everyone to charge their stuff while lounging on the couch.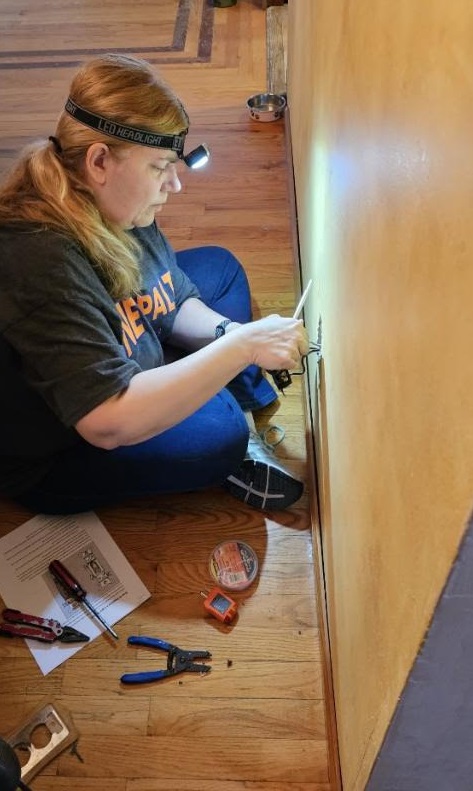 We just did toilets and plumbing. I have a drippy faucet that I am going to tackle and my outside faucet just started to drip when I used my hose, so he told me how to fix that as well.
This class was absolutely worth the money.  
This week we have a fun book by Katie Shepard and yet another reason not to spend time in the woods.
Just leave a comment to be entered in this week's giveaway.
This giveaway is for a paperback copy and is open to U.S. residents only.  Giveaway ends Thursday, April 20th.
  Two people are ready for their lives to get a little wilder in this romantic comedy by debut author Katie Shepard.

After being hospitalized for panic attacks two years after his mother's death, charitable foundation executive Teagan van Zijl is dragged by his sister to a wilderness therapy retreat in Montana. Lost in the woods, Teagan nearly gets eaten by a bear but is saved by an angel in muddy hiking boots—the program's handywoman, Darcy Albano, that is. After spending the summer with Darcy, Teagan realizes he doesn't want to return to New York without her. He hires Darcy as his sober companion—a position he doesn't actually need filled and for which Darcy is completely unqualified—hoping she can help him figure out how to move forward. But once they get to the city, all Teagan can think of is how to confess the truth while keeping her in his life.

Darcy Albano thought she was going to work as a wilderness guide when she was hired on the camp staff, but ended up a handywoman instead—only the latest screwing-over she's endured since her ex stole her car and her parents ruined her credit score. But Teagan van Zijl is the silver lining she didn't expect to appear—clearly going through something but willing to commit to Darcy's unique brand of wilderness education as the cure for what ails him. They form an unlikely bond based on the unexpected support they provide each other. Darcy never imagined staying in the city, but with Teagan's unshakeable belief in her abilities, anything seems possible.