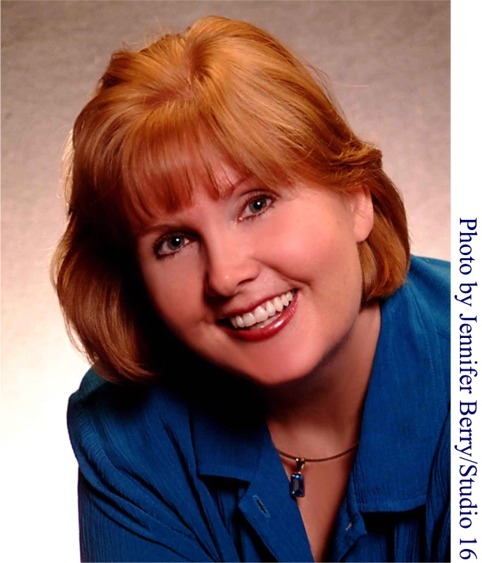 Hello, Kerrelyn. Thank you so much for joining us today to talk about your Love At Stake series. Here comes the gushing part – I love, love, love all of your characters and your stories. I've re-read your books many times and I still laugh each time I read one, and if I can figure out how to get Roman away from Shanna, he's mine!
Your first novel For Love or Country was a historical romance novel, and cleverly incorporated what could only be called period appropriate spy gadgets which your hero uses in spying on the British just prior to the Revolutionary War. What made you switch from historicals to paranormal?
I found it extremely difficult to sell an American-set historical to any of the big publishing houses. If you take a look at historical romances in the bookstores, you'll see that most of them are set in the British Isles. When I thought about my favorite historicals like Knight in Shining Armor or Outlander, I realized it was actually the paranormal element in them that I loved. So I thought, why not give paranormal romance a try? I'm so glad I did! I love writing vampires, because it feels like I'm still writing historical heroes. But the poor guys find themselves in a modern setting, struggling to understand a modern heroine who's sassy and independent, and that makes for a lot of laughs.
I should add that my publisher, Avon Books, has recently agreed to publish that first book For Love or Country and its sequel as e-books. I'm so excited to be able to share those stories with my readers. I don't know the dates yet for their release, so please check my website or Facebook page periodically for more information.
(Update:  For Love or Country eBook to be released on August 7th.)
I watched a live video book reading that you attended and you mentioned that you didn't have the nerve to write How to Marry a Vampire Millionaire until one night you were very sick and you were taking a lot of Nyquil. Do you still get nervous when you start of new story or is it now same-old, same-old, no big deal?
Ha! The Nyquil story! Yes, after writing historicals, I was worried that I couldn't pull off the necessary contemporary voice for a modern-day paranormal. Even though I had the idea for How to Marry a Millionaire Vampire, I was afraid to write it until I came down with the flu and was zonked out on Nyquil. Since then, I am happy to say that I've completed twelve books in the series without the aid of medication. But do I still get nervous when it's time to start a new book? Oh gosh, yes. It's very intimidating to look at a blank computer screen and struggle to get through page one, knowing there are 400 more pages to go.
I absolutely loved Sexiest Vampire Alive, Gregori is one of my favorite characters (after my love, Roman). Now, I am so happy that your next book being released on March 27th features Phineas. His character has been such a treat. You mention in your books that he's a young Denzel Washington, but I always saw him as more like Chris Tucker. He's just so funny. Can you tell us a little about his story and the woman who finally wins the heart of the "Love Doctor"?
I'm so glad you've enjoyed Phineas. He's one of my favorite characters, too. He's my hero in the making. Whereas most of the heroes are hundreds of years old and set in their ways, Phineas is young and changing. It's the change he's going through that makes him so interesting. If he'd been perfect from the beginning, he would have been boring, and as a writer, I'd have nowhere to go with him. But his journey from a poor kid from the Bronx to a mature vampire hero—that makes him a guy we can cheer for.
His book, Wanted: Undead or Alive, comes out March 27th. In the book before that, Gregori was busy doing damage control over the video that Corky Courrant released. Now that he's done, it's time for the Vamps to go after Corky and make her pay for the crime of betraying the vampire world. Most of the Vamps go to Eastern Europe and Russia to look for Corky, assuming that she'll hide out with the Malcontents there. Phineas is left behind to mind the fort at Romatech. When a clue comes in that Corky might be hiding in Wyoming, Phineas has to check it out. But who can he find to help him? How about that werewolf princess, Brynley Jones, who's an expert on Wyoming? She can teach a city boy like Phineas how to ride a horse and track down an evil vampire. And since she's a shifter, she can guard him during the day. If she doesn't kill him. Because to Brynley, all vampires are evil, especially Phineas, since he fills her with a desire she doesn't want to acknowledge.
Fess up! Who is your favorite character of the series?
I love them all! I have to confess that I love the heroes a bit more than the heroines. I relate to the heroines the most, because I live in their minds and hearts while I'm writing each book. And when they're falling in love with the hero, I am, too. So my favorite character is the hero that I happen to be writing at the time. I fall madly in love with him, but when the next book comes along, I fall for the new hero. I'm very fickle that way!
Can you give a hint about which characters we can anticipate seeing more of in the future? (We'll keep it between us 😉 )
Well, since I'm madly in love with the hero I'm currently writing, I can tell you who he is. Howard Barr, the were-bear. My gosh, I never realized what a rascal he was! Not only will he say something naughty, but he does it with a smile. Naughty, naughty man!
One last question…I work in White Plains, NY, and I have been searching for Romatech for quite awhile now and I am narrowing down the possibilities…is it this big white building with the black windows on Westchester Avenue?? Now that there are no leaves on the trees I can finally see it, but I just can't find the entrance. Am I hot or cold?? (Watch out Shanna – he will be mine!)
Ha! I love it! If I gave out the location, they might be flooded with job applications. And everyone would be asking to work the night shift! Actually, I believe Roman does need an office manager. Shanna stole his last one!
(Note to self: Break in, bring resume!! 😮 )
Thank you so much for talking to us. I know you definitely need to get back to your writing since we can't wait to read the next awesome Love At Stake story.
Thank you for inviting me, Lucy! It's been fun! And for my readers, if you haven't read the excerpt yet from Phineas's story, please check it out on my website, www.kerrelynsparks.com! And take a look at the Appearances page, too, to see if I'm touring near you. Thank you!
Read some of our Love At Stake Review — Including Wanted: Undead or Alive!
How to Marry a Vampire Millionaire
Sexiest Vampire Alive
Wanted: Undead or Alive
---
Kerrelyn Sparks' first paranormal romance, How to Marry a Millionaire Vampire, zoomed out of the bat cave so fast it became Borders bestselling debut romance of 2005.   Each book in the Love at Stake series has become a USAToday bestseller.  When the fourth book, The Undead Next Door,
landed on the New York Timesbestseller list, even the Undead sat up and took notice, which made Kerrelyn a bit nervous. She lives in the Greater Houston area with her husband, children, and a house full of garlic.  So far, there are no vampires in her family. Werewolves are another matter entirely.