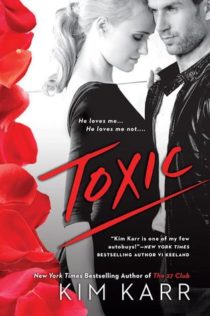 Toxic
by
Kim Karr

Published by
NAL Trade
on July 7th 2015
Pages:
368
Format:
eBook


I received this book for free from in exchange for an honest review. This does not affect my opinion of the book or the content of my review.
This post contains affiliate links you can use to purchase the book. If you buy the book using that link, I will receive a small commission from the sale.
---
[box style="rounded" border="full"]I had a difficult time getting into this story. Rich girl meets poor boy. Hides who she is and gets mad when he disappears from her life. They reconnect but she doesn't trust him. But–but she's the one who lied. I had little sympathy for Phoebe and a hard time connecting with her.[/box]
Phoebe St. Claire and her friends from childhood are out celebrating their "loss of innocence."  The last of their group has been dragged into the family business marking the end of their long time vow never to become like their parents. Phoebe has a bit too much champagne which is a problem especially when she literally crashes into her past.
Phoebe hasn't seen Jeremy McQueen since he walked out of her life years ago.  She knows that she lied to him.  He hated her father, and rich people in general, so she pretended to be someone else.  "Phoebe Saint" was falling in love with Jeremy when he left her without another word.
Now he's part of her world.  The poor kid who worked odd jobs at the country club was now the most sought after bachelor among the rich and famous.  He made a fortune give the elite something they would pay a fortune to have–exclusivity.  He stared a company called "Jet Set" which provides special privileges for those who can afford membership whether it be at clubs, restaurants or anywhere the rich want to feel special and pampered.
Jeremy wants to add hotels to his list of Jet Set membership and it was Phoebe's family who first began the idea of hotels for the rich and privileged.   Phoebe needs Jeremy's help raising the company back to its former glory.  If they don't start filling the hotels, Phoebe's family could lose everything by the end of the year.
Their partnership will be mutually beneficial, but can they keep things strictly business?  Phoebe is afraid to open her heart to Jeremy again.  Can they start again or will their painful past get in the way?
THOUGHTS:
I had a hard time liking Phoebe.  Part of that, I admit, comes from this rich, privileged, beautiful woman whining about how life was so unfair to her.   (I'm sorry, what?)    She grew up in the life of the super-rich.  She had everything and then some handed to her, and then was upset because since she was the only child, she would have to eventually step up and run the family multi-billion dollar business.   Boohoo. Poor Phoebe.
She also seemed to lack a backbone.  She was engaged to "the perfect guy" except now he was planning out her life for her: after they married, she would quit working, pop out his kids, etc.   Guess that guy didn't get the memo that she was bred for the sole purpose of running the family business.  Dad wouldn't be too happy with her quitting to pop out kids.  Once Dad gets out of prison for insider trading, that it.   Phoebe rightly calls off the wedding to Mr. Perfect but doesn't completely cut the ties to his guy.  She's very wishy-washy where he is concerned.    He calls her all the time. He wants to see her and she comes over.  You don't want this guy, then bye-bye.  Stop jerking him around and making him think you'll eventually come to your senses and come back to him.
Not only was she wishy-washy about the ex-fiance, she was also overly-dramatic about her original break-up with Jeremy.   Basically, she meets him the night of her big birthday bash at the club.  Why she was wondering the grounds alone during the party and not hanging with her friends is a mystery.   She meets Jeremy, the poor kid who's mom is a caterer at the country club, and since he mentions how he hates her Dad, who is throwing the party, she pretends to be someone else.  Let me stop here and mention that Jeremy must be a little slow since he doesn't associate Phoebe Saint with the St. Claire's who are throwing the party.  Even if he doesn't, obviously she is one of the rich and privileged if she is at the club as a guest.  He knows both her parents but Phoebe must not resemble either of them in any way since again, he has no clue who she really is until one of her friends spells it out for him. They have a great summer together but she catches him hugging his BFF (who is a girl) and storms off, accusing him of cheating on her.   He doesn't chase her down the street, so he must not love her and when he eventually tries to find her, he finds out who she was and leaves.  It appears he received a college scholarship and left town to start class, but doesn't contact her since she lied to him.
Now when they get back together in the beginning of the story, she is very dramatic about their past history.   She didn't catch him in bed having sex with his friend.   He didn't get her pregnant and walk away.  She lied to him about who she was.   But it is Phoebe who acts like Jeremy destroyed her by walking away from her.  Didn't she run away from him after screaming that he was cheating on her?  Why would he chase down the lying, jealous, rich-bitch who ran away from him?  Once we learned about their deep, dark past history, I was like "That's it?  So what, apologize for lying and move on, Drama Queen."
Although Jeremy comes off a little more likable, I was also torn between the idea of the poor kid who makes it big and the fact that he hated these people and their pompous attitude towards those below them and now he was one of them. Is that a good thing or a bad thing?
I do believe that part of my problem with this story was the fact that while I was reading Toxic, I was listening to Fighting Silence by Aly Martinez.   The night and day difference in lifestyle from the dirt poor kid who couldn't graduate high school because he was working too much to do homework and how he struggled to keep him brothers in a shitty apartment in a crappy neighborhood to the story of the super-rich and privileged who were whining about how they didn't want to be given jobs for crazy salaries in their multi-billion dollar family businesses, but all did because they like getting all the family money, was just too jarring.   The story about a family struggling for basic necessities and actual survival made this story about rich people who don't know how to waste their mountains of money fast enough simply nauseating.
Maybe, because of this, I didn't give Toxic a fair shot.  But I had such a hard time liking Phoebe or feeling sympathy for her Drama Queens problems, most of which she made for herself.  If she was a stronger character, I might have had more interest in her.
Received an ARC from the publisher in exchange for an honest review.