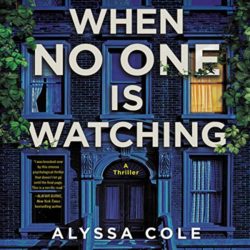 When No One is Watching
by
Alyssa Cole

Published by
William Morrow Paperbacks
on September 1, 2020
Genres:
Mystery
,
Suspense
Pages:
352
Format:
Audiobook
Narrator:
Jay Aaseng
,
Susan Dalian


This post contains affiliate links you can use to purchase the book. If you buy the book using that link, I will receive a small commission from the sale.
The gentrification of a Brooklyn neighborhood takes on a sinister new meaning…
Sydney Green is Brooklyn born and raised, but her beloved neighborhood seems to change every time she blinks. Condos are sprouting like weeds, FOR SALE signs are popping up overnight, and the neighbors she's known all her life are disappearing. To hold onto her community's past and present, Sydney channels her frustration into a walking tour and finds an unlikely and unwanted assistant in one of the new arrivals to the block—her neighbor Theo.
But Sydney and Theo's deep dive into history quickly becomes a dizzying descent into paranoia and fear. Their neighbors may not have moved to the suburbs after all, and the push to revitalize the community may be more deadly than advertised.
When does coincidence become conspiracy? Where do people go when gentrification pushes them out? Can Sydney and Theo trust each other—or themselves—long enough to find out before they too disappear?
---
An intriguing mystery.
Her Brooklyn neighborhood is changing much too quickly for long-time resident Sydney Green and she isn't very happy about it. A big drug company purchased the old mental hospital which has been closed up for a number of years. Since their neighborhood is going through revitalization, her favorite businesses can't keep up with the growing rents and are moving out of the neighborhood. Even some of her neighbors are giving in to the pressure to sell since the rising housing prices are just too tempting not to cash in.
It is not just disturbing that the new white people moving in are willing to pay astronomical prices for the properties but there is almost a Stepford Wife's feeling about her new neighbors. They all seem to know each other too well.
Sydney overhears a walking tour in her neighbor which is glossing of the important historical contributions of some of her current and former African-American neighbors. When the tour guide suggest that Sydney create her own tour, she decides to do just that and present it at the upcoming neighborhood block party. Sydney might have taken on more than she can handle in such a short time and she isn't excited that the one person volunteering to help her with this history lesson is the new white guy who moved in across the street.
As Sydney and Theo learn more about their neighborhood, they begin to note how one group of people keeps forcing out the last group going all the way back to the Native Americans, and how those who wouldn't sell were eventually forced or squeezed out.
When yet another neighbor mysteriously leaves in the middle of the night, one who would never have moved out willingly, Sydney and Theo being to realize that there might be something more ominous going on in their neighborhood than just gentrification. But who is behind it?  The new drug company?  The very pushy real estate company desperate for the growing commissions as the purchase prices skyrocket? If there is something sinister going on, who can they turn to when it looks like someone already has the police and the government officials in their back pocket?
Personally, I was disturbed by references to underutilized resources in the area when there was clearly a booming neighborhood currently established here.  There is also something a little off about both Sydney and Theo and it is quite shocking to find out that both our black heroine and white hero are not entirely without sins of their own in this story.
Honestly, if you are white and easily offended, you aren't going to like this story. This is a good story and an excitement to solving the mystery of what is happening to Sydney's neighborhood.  There is also a helplessness to it when there is no one to turn to for help, not the police, not the courts, not those agencies which are supposed to help.  But the subject of this mystery is going to make you realize some things and it is told in way that will make you understand the color of your skin makes a difference to how a person sees the world and how the world sees them.  Obviously this is something that has been discussed for centuries but giving it a first person POV will let you see the world in a new light.  (Sorry, that note was for the white people.)  So if you can't take it when someone knocks those rose colored glasses off your face, then go find another story. I remember a number of years ago when there was talk about the revitalization going on in Harlem in NYC. Me, being white, thought it was great that they were finally fixing up a neighborhood long considered run down. My friend, who is Latino, commented that her grandmother has lived in Harlem her entire life and would soon not be able to afford her rent since all the yuppies moving in would be driving up the cost to live there. It was my first understanding that gentrification is apparently just another word for white.
This story will also bring in real life issues from the housing market that have effected real people. In my prior job with the claims department at a title company, we received a lot of cases of how people were swindled out of their hard earned properties by people who were slick enough to convince someone in a financial crises that they were there to help, and since their game was morally bankrupt but completely legal, preying on people who didn't have the money to hire an attorney to protect their rights, these were often just sad tales to tell and there was nothing to do to change what happened.
Yes, there was a very black vs white element to this story but more about a group who was powerless against the powerful, who know how to take what they want from you and there is nothing and no one to help you. There was a point in the story where we finally had all the answers but I realized only Hollywood would be able to give us an acceptable ending. Knowing you are being screwed and being able to do something about it is something completely different.  This leaves us with a powerful understanding of that helplessness.
Overall, this was a well written mystery and enjoyable story.
Related Posts