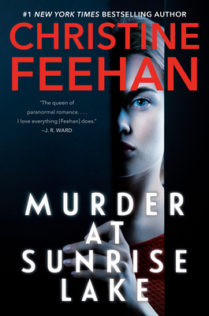 Murder at Sunrise Lake
by
Christine Feehan

Published by
Berkley Books
on June 29, 2021
Genres:
Mystery
,
Suspense
Pages:
432
Format:
eBook



I received this book for free from in exchange for an honest review. This does not affect my opinion of the book or the content of my review.
This post contains affiliate links you can use to purchase the book. If you buy the book using that link, I will receive a small commission from the sale.
#1 New York Times bestselling author Christine Feehan reaches new heights of passion and suspense in this thrilling novel that takes readers deep into the California backcountry, where a woman is tormented by visions of a killer.
It starts in her dreams. Hideous flashes from a nightmare only she can stop. Images of a murderer stalking the ones she cares about most...
Stella Harrison thought she got away from the traumas of her past. Running the Sunrise Lake resort high in the Sierra Nevada mountains has brought her peace, even though she doesn't truly share her quiet life with anyone. Not even Sam, the hired handyman that notices everything and always seems to know exactly what she needs.
Stella doesn't know anything about Sam's past, but somehow over the last two years his slow, steady presence has slipped past her defenses. Still, she knows she can't tell him about her recent premonitions. So far there's been no murder. No body. No way to prove what's about to happen without destroying the life she's built for herself.
But a killer is out there. And Stella knows that this time she'll do whatever it takes to stop him.
---
I was so excited to read a Christine Feehan novel but this was so disappointing.
I had wanted to read a Christine Feehan novel for some time but I didn't have the time to invest in her series which were all well into the story line and character development. I did try and read one of the ARC's I had received but I could tell right away that I didn't have enough background in the world building to completely enjoy it. So this story being a stand along mystery was a perfect choice.
The mystery itself was very creative since we had a serial killer so clever as to plan his killings to look like accidents. This story takes place in a small town located in the wilderness of the Sierras surrounded by mountains, woods and national parks, and in the peak season, it is filled with inexperienced tourists and even experienced climbers have accidents. This killer could have succeeded for decades unchecked.  Our heroine, instead of being part of the investigation and working out something that would normally be overlooked and therefore, proving that the accidents were in fact attacks by a serial killer, our heroine had a gift of dreaming of the killer's planned murders.  As you know, I'm a fan of anything paranormal, but this wasn't well presented at all nor did it offer much in solving the murders.  Stella never really got enough information in time to stop the murders.  Stella dreamed little snippets each night, growing with more detail or as she put it, it was like looking through a camera lens and the view getting wider each nigh– and longer too which doesn't bode with her camera analogy.
Stella's father was a famous serial killer and Stella was partially responsible for putting him away but it took a long time.  She was only four when started dreaming of her father's murders and although her mother tried to convince her that she was wrong, Stella finally admitted to her father that she knew, leading to his downfall.  Years later, Stella once again dreamed of a serial killer and was witness to his killings before they happened, and once again Stella was responsible for bringing the killer to the attention of the police but it also brought her unwanted notoriety.
Stella changed her name to Harrison and moved the remote town in the wilderness, and kept everyone at arms length, well, except for her tight group of BFFs, who were all hiding major secrets of their own.   Just as an aside, if you want to become my BFF, you will have to accept that I have no deep, dark hidden secrets, I had a boring middle-class childhood and haven't murdered anyone.  So how the hell did Stella, the women who keeps everyone at arms length,  find seven BFFs who are all hiding major secrets, in fact not one but two of whom are hiding major mob connections? REALLY?
I had major issues with the writing style of this book but since I haven't read Christine Feehan before I don't know if this was her usual presentation or an anomaly.   I thought I knew who the killer was and wanted to  find out if I was right so I kept going but reading this book was like reading an assigned book in school.  There was a lot of sighing on my part, checking my progress, walking away to do chores (never a good sign for any novel) and forcing myself to pick it up again.  The last ten percent of the book I started flipping through until I finally got to unveiling the killer.
This does not appear to be part of a series, and it really doesn't work as part of a series unless this small town is the most dangerous place where serial killers converge, yet as I mentioned all of Stella's friends are hiding deep, dark secrets.  Stella never mentioned her past or that her father is a serial killer until she needs something from one of her friends to help her interpret her dream, then Stella is confessing and then her friend confesses their hidden secret.  This kind of detail snippet is something you give if you are trying to entice your audience to want more from a character (read: next book) but pretty much was a waste of time and pages since it didn't move this story along.  And if I wanted to excite my readers about a series, I would drop one long background story in each book, not five long background stories for all my heroine's girls, as well as multiple descriptions about the gorgeousness of each woman.
As I mentioned many times in my reviews, I don't like a unnecessary glut of repetitive information.  Tell me the hero of the story is quiet/  Tell me that t he is good at fixing things around Stella's campground.  Tell me that he has the dangerous feel of a predator.  This is all important information.  Tell me he is great at fixing things, that he is quiet and keeps to himself, and that he is deadly once a chapter is a bit much.   I got it. Yeah, yeah. Sam's a one man army!
I was supposed to like Stella and Sam as they were the main characters, but I simply couldn't.   Sam was supposed to be the usual romance hero who is both Alpha, since he is ultra protective (remember, he's dangerous) and Beta, in that he takes care of her every need even before she knows what she needs.   She's having a bad day and comes home to find him with a glass of win for her, and making her dinner.   He doesn't live there, yet he is often in her house making her dinner!  THAT'S A STALKER!!!!    Additional stalker notes:  Whenever Stella wakes up from her nightmares, Sam is sitting in a chair across the room watching her.   Even after they start their relationship and are having sex, she wakes up to find him in the chair…watching…her.   Are you F'ing kidding me?  I was creeped out by the third time this happened.  Don't F'ing watch me sleep, Dude!  That's F'ing creepy!!
And how both Stella and Sam could feel whenever the killer was watching them is unknown but apparently the killer spend all their time killing or watching Stella.  Get blinds on your bedroom window!  What are you exhibitionists?
I simply cannot recommend slogging through this story to mine the few moments of interest.   P.S.  I was right about the killer.  Problem is, the only backstory of interest as to why the killer was killing felt glossed over especially after everyone else told their sad tale of woe.
Related Posts