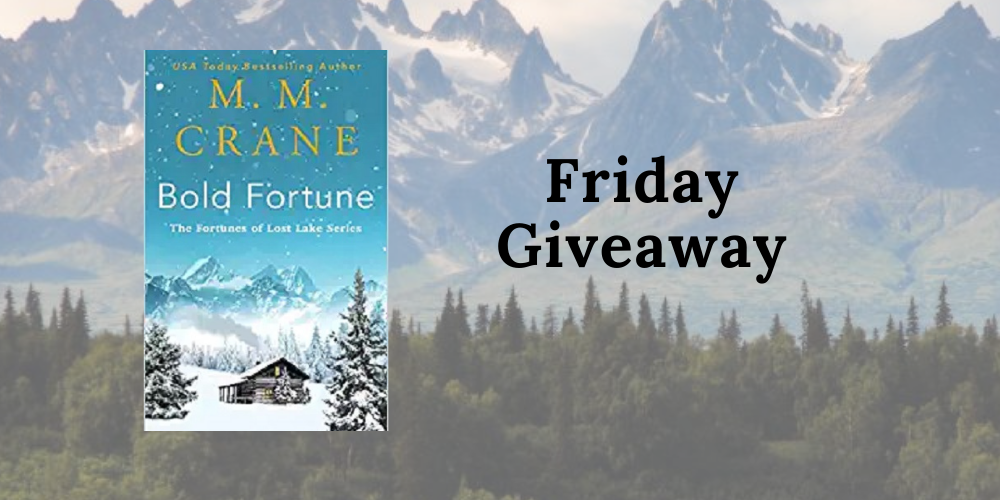 Our winner is…Linda. Congratulations.
Happy Friday!  It's gonna get cold around here.
As you might have guessed from yesterday's post, there seems to be a sudden flood of upcoming releases set in fictional small towns in Alaska, and I grabbed a bunch to share with you.    We are going to start with one that I loved and that is Bold Fortune by M. M. Crane.   We will have more on this book next week but I absolutely loved Violet and her upbeat attitude.   Quinn Fortune says he won't discuss the future of the gold mine and surrounding land with Violet unless it is over a beer, obviously in the only bar-ish type establishment in Lost Lake.   This is Quinn's way to brushing off the many attempts people have made to get their hands on the land and the gold mines.   When Violet surprises Quinn, actually showing up in her bright pink outerwear and carrying her bear spray, he ups the challenge saying she couldn't survive a week in the wilderness with him in a dry cabin (no running water, bathroom, etc), Violet is all, challenge accepted.   And while Quinn waits for Violet to call it quits, Violet actually blossoms in Alaska, falling in love with both the mountains and the beauty of Alaska and the grouchy mountain hermit keeping her company.   It was such an enjoyable story.
I myself am a beach person.  I have nixed vacations in a woodsy cabin.  I don't have the call to see the spender of Alaska up close and personal.  I am sure this is my loss.  I have enjoyed Bold Fortune's descriptions of life in a dry cabin.  I also appreciated the hard work and danger involved in climbing an actual mountain as it was described in Enjoy the View by Sarah Morganthaler.    Still not going.
So let's here it.  Is a trip to Alaska a yay or a nay for you?  Leave a comment to be entered.
Giveaway is for a paperback copy.  Open to U.S. residents, 18 years and older.  Giveaway ends Thursday, December 23rd.
Opposites burn hot enough to melt the snow and ice of an Alaskan winter in this all-new series from USA Today bestselling author Megan Crane.

Quinn Fortune is the official protector of all the unspoiled beauty in Lost Lake, Alaska, as the head of the community trust. A rugged frontiersman through and through, he doesn't do soft. But he can't help his fascination with the pink-clad professor who shows up in Lost Lake seeking his approval for her cheerful outsider's proposal about land that isn't hers. Still, he agrees to consider it–if she can handle a month of good old-fashioned Alaska living. He's betting she'll head back to the safety of the Lower 48 within the week.

Violet Parrish is a thinker, not a doer, but desperate times call for extraordinary measures–like taking on the Alaskan wilderness. In January. Off the grid. With a mountain man hot enough to melt a glacier. The frozen Alaskan tundra should be no match for Violet's determination, but the sheer immensity of the Last Frontier takes her by surprise–as does her attraction to gruff, impossibly handsome Quinn, and the unexpected heat that burns between them during the freezing Alaska nights…