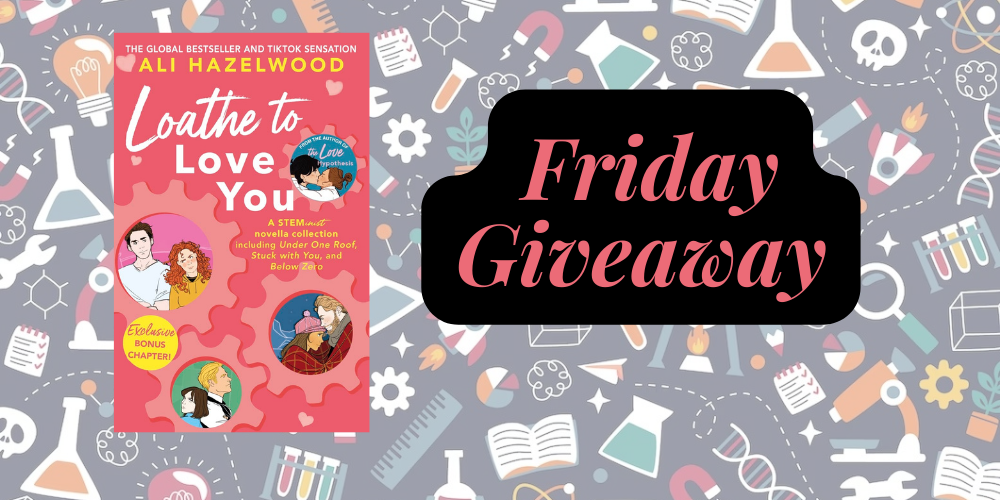 Our winner is…Elizabeth. Congratulations
Happy first Friday Giveaway of 2023!
I hope you all had a wonderful New Year's Eve. If you are like me and decide you want to drop your TV cable connection just before New Year's, try and remember this fact before you are trying a last minute scramble to find some way to watch the ball drop in Time Square. It was approximately 11:30 p.m. and I was making some lovely Strawberry Bellinis when my husband pipes up "How are we gonna watch the ball drop?" to which I elegantly replied, "Oh, shit!" He managed to log into something and we watched one of the standard network's covering the party and were able to watch the countdown, but there was that odd moment of "What the heck are we going to do?"
I think we need to start this new year off with a bang with one of my new favorite authors. "Loathing Hazelwood" is obviously a play on the new Ali Hazelwood release of Loathe to Love You because I do love the writing of Ali Hazelwood. I love these super-smart women and men and who so socially awkward yet find their HEA. These love/hate romances were all released individually last year and now these stories of three college BFFs are packaged together with an extra bonus chapter. While Mara and Liam's story was not my favorite, I did love Sadie and Erik as well as Hannah and Ian. I also liked the way these short stories developed by jumping back and forth from the past to the present which built the tension up on each of these short stories.
We are keeping it simple. Just leave a comment to be entered in this week's giveaway. This is for a paperback copy and is open to U.S. residents. Giveaway ends Thursday, January 12th.
From the New York Times bestselling author of The Love Hypothesis comes a collection of steamy, STEMinist novellas featuring a trio of engineers and their loves in loathing—with a special bonus chapter!

Under One Roof
An environmental engineer discovers that scientists should never cohabitate when she finds herself stuck with the roommate from hell—a detestable big-oil lawyer who won't leave the thermostat alone.

Stuck with You
A civil engineer and her nemesis take their rivalry—and love—to the next level when they get stuck in a New York elevator.

Below Zero
A NASA aerospace engineer's frozen heart melts as she lies injured and stranded at a remote Arctic research station and the only person willing to undertake the dangerous rescue mission is her longtime rival.